Anywhere to the airport and the airport to anywhere.
Airport Pick-Up and Drop-Off
Tours by Towncar, despite the name, offers more than just private tours. We are fully licensed by the airport authority to provide limousine, towncar and taxi pick-up and drop-off service at Robert L. Stanfield Halifax International Airport in Halifax, Nova Scotia.
Our professional drivers are very experienced with this type of service, knowing the best routes to and from the airport, knowing their way around the terminal building and aerodrome area and knowing all the little things that can help you with your trip. (One example being knowing what is the best time to show up for check-in.)
You can make your booking for any time during the day. We will gladly wake up with you, or stay up late for you in order to accommodate the fact that airlines fly all hours of the day. Our drivers will take care of placing your luggage into our vehicle and taking it out at the end of the drive and have no hesitation in helping anyone with special mobility needs.
Business Clients
Do you have a client or potential client flying into Halifax that you intended to pick-up at the airport? Make an extra impact by sending a luxury vehicle and professional driver to pick them up for you. We will make it clear that we are there for them, but on your behalf. Imagine the impression it will make when you client sees a limousine and well dressed driver and is told that you were thoughtful enough to have them met at the airport. Not only does it make a good impression but it also frees you from the errand of driving.
The Drivers with the Kilts
Add a taste of Nova Scotian culture to your airport pick-up. On special occasions we can potentially offer a driver dressed in a kilt wearing the official tartan of Nova Scotia to welcome you or your clients to New Scotland.
Transportation between Robert L.Stanfield Halifax International Airport and downtown Halifax or vice-versa is $63.00 for a one way trip. Please contact us if you need to discuss rates for travelling to other locations.
Just email us at jim@toursbytowncar.ns.ca or use the information on our contact page.
The instructions below should make it easy to find us, especially as we are not far from the arrivals area. The ground transportation kiosk is located in the main arrivals area. It is not necessary to visit the ground transportation kiosk in order to find us, but the staff there can help with locating Tours by Towncar if you need some assistance.
Once you enter the domestic arrivals area you will see three baggage carousels. Once you have your luggage turn around facing opposite to the baggage carousels, walk straight ahead and make your way around the structures such as the pillars and elevator. Once in the open hallway you will see the ground transportation office (marked with a sign) in your front view and the rest of the terminal building to your left. We can be found by exiting one of the doors in front of you and walking about 10 paces to your right.
Once you have been cleared by customs officials you will pass through large sliding doors which open into the airport main hallway. To your left is a magazine store and a little in front of that is a café. Exit via the nearest door, which is about 30 paces to your right. Once outside, walk approximately 10 paces to your right.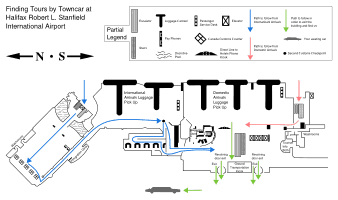 We have also created a higher resolution map for your convenience suitable for printing.
A scalable version of our map is available as well. It is a vector image in Scalable Vector Graphics format and should display in most modern, standards compliant browsers.
Please feel free to contact us if you need further directions in order to locate us.